---
Written by Anuj Bhatia | New Delhi |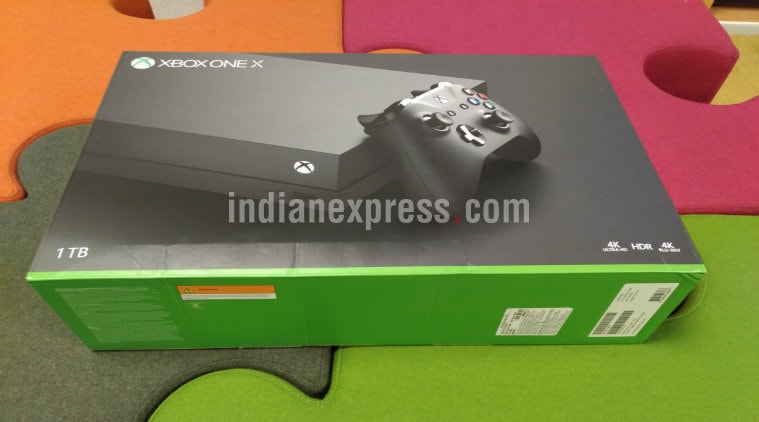 Microsoft's Xbox One X has been pitched as the world's most powerful home console in the market. (Photo by Anuj Bhatia/indianexpress.com)
Microsoft on Tuesday launched the Xbox One X, a souped up version of the existing Xbox One aimed at hard-core Indian gamers. Microsoft Xbox One X costs Rs 44,990 and will be available for purchase online in India on the Microsoft India store, Amazon India, and Flipkart. Users can also buy the Xbox One X from Landmark and Croma retail stores. That price point makes the Xbox One X a bit more expensive than its closest rival, Sony's PlayStation 4 Pro, but the former is technically more advanced and promises to push 4K gaming to the forefront.
"With the Xbox One X, we are looking at a more evolved segment of the gaming market," Priyadarshi Mohapatra, Country General Manager, Consumer & Devices Sales, Microsoft India told indianexpress.com ahead of the launch of the new console in India. "While both the Xbox One S and Xbox One X are meant for gamers, but there is the segment which is at the top-end of the pyramid which is really looking at the immersive 4K experience."
"All the studies and indicators have told us that the future of gaming is going to be immersive 4K. A consumer who is looking at the premium experience – both in terms of visuals and graphics -is the one we are targeting with the Xbox One X," he added.
Once known as Project Scorpio, Microsoft Xbox One X has been conceptualised as a high-end console from the beginning. It has got a more powerful processor; a customised 2.3GHz CPU coupled with 6 teraflops of performance, 1 Terabyte of hard drive and 12GB of GDDR5 RAM. The Xbox One X is also capable of running true 4K gaming at up to 60fps, something that is already visible through the messaging and ad campaigns. But for many gamers, it doesn't really matter. After all, there are a handful of people who actually owns a 4K TV in India. But the company says due to the supersampling technique, the 1080p versions actually look better on the Xbox One X.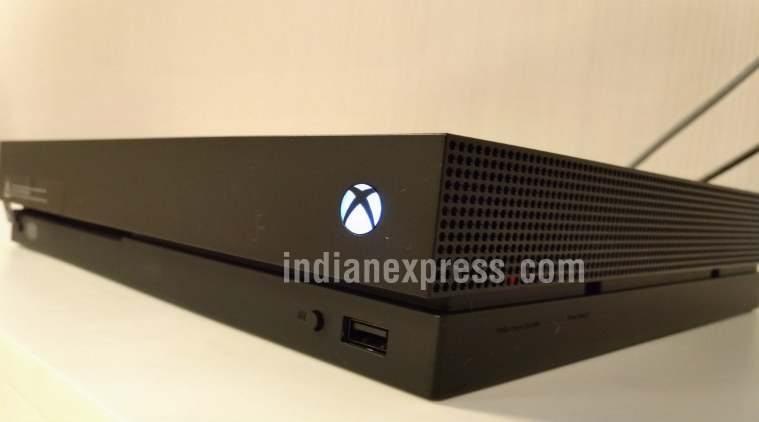 Microsoft Xbox One X is technically more powerful than Sony's PlayStation 4 Pro. (Photo by Anuj Bhatia/indianexpress.com)
While Mohapatra didn't mention how many units of the Xbox One X it plans to bring to India initially, he seems to be fairly positive of the console's success. "Indian consumers, when it comes to gaming, are fairly discerning and matured. We are giving consumers a choice. Today, if they want to move to a new console, they got an entry with a 4K player in the form of the Xbox One S. And if there is a customer far more evolved, then we have the Xbox One X. Also, our strategy of cross device and cross platform is different from the competition, which gives us a clear advantage of reaching to a much bigger base," he explains.
Globally, Sony's Playstation 4 has outsold Microsoft's Xbox One console, with the former console now sitting at 70.6 million as of December 2017. Microsoft no longer shares sales figure on Xbox One consoles. The head of Xbox in India, however, says the company sees the gaming market differently from the competition. Instead of focusing on how many units sold in the market, Microsoft is looking at the engagement metrics to measure the success. In India, for instance, the Xbox fanbase has constantly increased which, according to Mohapatra, is an encouraging sign. Microsoft is also seeing that more people now spend their time on Xbox Live online service.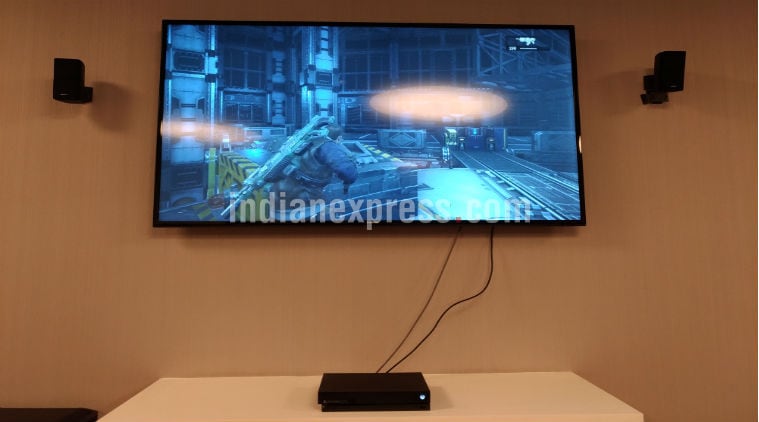 Once known as Project Scorpio, Microsoft Xbox One X has been conceptualised as a high-end console from the beginning. (Photo by Anuj Bhatia/indianexpress.com)
With the Xbox One X, Microsoft is targeting the market of matured gamers. The company understands its audience, and the choice of games (Halo, Gears of War or racing game Forza) they want to play. And that might help Microsoft position the Xbox One X firmly in the market. Along with the Xbox One X, a number of games have received patches that are optimised for 4K visuals.
These games, which Microsoft likes to call "Xbox One X enhanced", will compliment the powerful hardware resides inside the Xbox One X, especially if you have a 4K-ready TV at home. Unlike the PlayStation 4, the Xbox One X has a growing list of backward compatible games that previously featured on the original Xbox and Xbox 360. And yes, there is support to play 4K UHD Blu-Rays, which the PS4 Pro lacks.
For all the latest Technology News, download Indian Express App
© IE Online Media Services Pvt Ltd